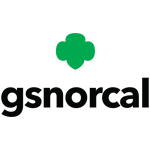 Girl Scouts of Northern California
GSNorCal Summer Camps
Jun. 18th - Aug. 3rd
Girl Scout campers find their strengths and challenge themselves as they navigate activities on the water, at the campsite, and along the trail. Girl Scouts of Northern California's camp sessions allow campers to develop a strong sense of self and positive values, build healthy relationships, seek challenges, and have fun while making memories of a lifetime!

We offer 1, 2, and 3 week sessions at three camps in Fairfax, Soquel, and Arnold California. Our camps are open to anyone who identifies with the girl experience; you do not have to be a current or previous Girl Scout member to attend.
Discover the world the world of Girls Scouts with us!
Extended Year membership offers new youth and adult members the chance to purchase an 18-month Girl Scout Membership at a discounted price to begin their Girl Scout experience! Join us today and start your year of wonder ? https://www.gsnorcal.org/en/get-involved/join.html