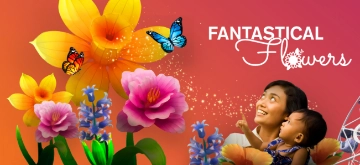 Gilroy Gardens
Fantastical Flowers
Gilroy Gardens
3050 Hecker Pass Hwy, Gilroy, CA 95020
Apr. 18th - May. 29th
A Spring Celebration at Gilroy Gardens
Now through May 29, 2023

Big things are blooming at Gilroy Gardens Family Theme Park! Join us for Fantastical Flowers Spring Celebration, an all-new event that celebrates everything that blossoms - and everything we love about spring.

This limited-time event is included in regular park admission and FREE for 2023 Premium Members and Value Members.
Value Membership - Everyone Pays the Kids Price
For a limited time, even grown-ups pay the kid's price of just $65 when purchasing online! Join the fun all summer long at the lowest price of the season. Excludes Great Big BOO! and North Pole Nights. Special Limited-Time Offer: $65.00 All Ages Regular Price: Adults $75.00 | Child/Senior: $65.00